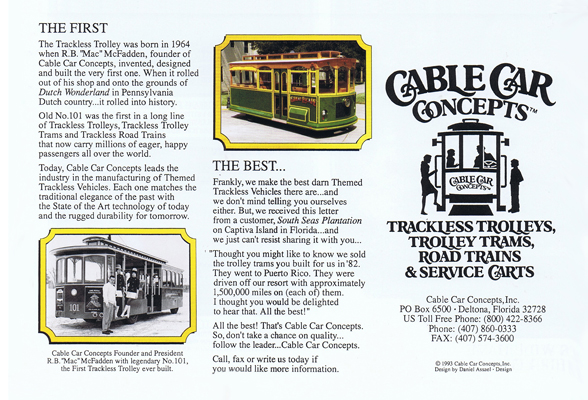 Cable Car Concepts™ Sales Promotion Brochures Corporate Identity, Design, Illustration, Copy Writing and Print Production Management
Cable Car Concepts™
Trackless Trolleys, Trolley Trams, Road Trains & Service Carts
THE FIRST
The Trackless Trolley was born in 1964 when R.B. "Mac" McFadden, founder of Cable Car Concepts, invented, designed and built the very first one. When it rolled out of his shop and onto the grounds of Dutch Wonderland in Pennsylvania Dutch country…it rolled into history.
Old No. 101 was the first in a long line of Trackless Trolleys, Trolley Trams and Trackless Road Trains that now carry millions of eager, happy passengers all over the world.
Today, Cable Car Concepts leads the industry in the manufacturing of Themed Trackless Vehicles. Each one matches the traditional elegance of the past with the State of the Art technology of today and the rugged durability of tomorrow.
Photograph Caption: Cable Car Concepts Founder and President R.B. "Mac" McFadden with legendary No. 101, the first Trackless Trolley ever built.
THE BEST
Frankly, we make the best darn Themed Trackless Vehicles there are…and we don't mind telling you ourselves either. But we received this letter from a customer, South Seas Plantation on Captiva Island in Florida…and we just can't resist sharing it with you.
"Thought you might like to know we sold the trolley trams you built for us in '82. They went to Puerto Rico. They were driven off our resort with approximately 1,500,000 miles on each of them. I thought you would be delighted to hear that. All the best!"
All the best! That's Cable Car Concepts. So, don't take a chance on quality… follow the leader…Cable Car Concepts.
Call, fax, or write us today if you would like more information.
Tags: